Some of the 17661 images seen inside this site...

<!

3/15/16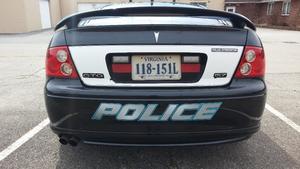 The police are selling their Pontiac GTO patrol car. For the past several years, we've been covering the Virginia town of Boones Mill, their former police chief Lynn Frith and his penchant for fast pursuit vehicles. Now they are selling the town's 2004 GTO for $16,000
VIDEO REPORT: WSLS10 News video
FOR SALE LISTING: Autotrader listing 2004 GTO cop car with 18 photos

from wsls.com
11/18/15


Legendary Ad Artist Art Fitzpatrick Dies At 96. He created iconic auto ads For Pontiac, others
ARTICLE: Advertising Age article
from AdAge.com
2/14/15
Restoration parts suppliers merge. Ames Performance Engineering acquires Performance Years Pontiac. PY will handle manufacturing of classic Pontiac parts while Ames will do all the retail selling.
ARTICLE: Ames acquires Performance Years announcement
11/29/14
Coverage of the recent Muscle Car and Corvette Nationals...
ARTICLE: MCACN article with pix from HotRod article
from HotRod.com
10/9/14
Congratulations! We're number TWO! Study finds Subaru WRX, Pontiac GTO, Pontiac G8 among most-ticketed cars...
ARTICLE: Detroit Daily News article
from Detroit Daily News
10/5/14
A suburban Chicago newspaper does a feature story on Tim Dye and the Pontiac Museum in Pontiac, Illinois...
ARTICLE: Pontiac Oakland Museum (click through all 5 images too)
from Daily Herald
9/11/14
The Motor Trend Channel did a video review of a couple of our favorite cars. The 1969 Pontiac GTO Judge vs. 2006 Custom Pontiac GTO...
And, yes, the Judge is Carousel Red, not Orbit Orange.
<! the ebay script starts here. One shows 3 high-dollar cars. > <! The other shows one "most watched" part > <! The third one shows Toys & Hobbies ending soon >
High-profile GTOs Most-watched Toys/Hobbies ending
Click to see large image->
<- New every Sunday!
A "mini" 1970 GTO Judge from modeler Mike.
12/02/22

GTO Fact of the Day for Friday:
Bucket seats were standard on the GTO model.

Most popular right now:

NEW! Mighty 100x100 pixel ads

Buy an ad here



Today's Site Navigation Tip:
If you get lost on this website, go back to the main page and look for the Main Menu.

Work on your car today:
dig rocks out of the tire treads




Pontiac re-released a GTO for the 2004 model year. For 2005 and 2006 the RWD car got hood scoops, more horsepower, and dual exhausts that exit from both sides. For '04 - '06 the car was being imported from Australia. The 2005-06 models have a larger 6.0 liter LS2 V8 engine. See articles, viewer concepts, and commentary in our exclusive Holden Monaro / New GTO info collection


Today's Funny Line: Bumper Sticker: GAS STATION ATTENDANTS pump all day.
What's on Sean's mind today: Many old Pontiacs have been crushed as a result of drunk driving. We now pause for a moment of reflection.
Who is on duty now: Craig George is currently online and editing comments <! Yo mama eats dead fish !>
<! menu begin !>

<! menu end !>
Says Marko Markowski - "This website has a photo of every GTO ever made? Did I dream that? Tonight I've looked through just 2,000 GTO photos and am certainly amazed."
Says Richard Hammond from the TV show Top Gear - "Muscle cars may not have done much to advance the world, but trust me, you wouldn't want to live in a world without them."
Gushes Ed - "This site is AWESOME!! I love it and was especially pleased to see how the Car Pics were even categorized by colors as I was only interested in 1970 Orbit Oranges."
Says Robert D. - "Thanks for preserving the history and beauty of these cars."
Says Pete Aiello - "When [dad] was in college, he had his first '65 taken from him - only three years after he bought it brand new. 40 years have passed and now I'm going to get it back for him on his 60th birthday."
Says Jason Daubert - "I used your zone and dealer code for my other 65 GTO (a rough one). Another example of how useful your site is to the enthusiast."
Steve fantasizes - "Great site, I could Live here!"
Says Jenn Tran - "I can only say a simple "thank you", because 1. Words can't really express my love for GTOs and what you've done to foster a person's love for this gorgeous car 2. I've got to get back to searching for the GTO sold out from under me (or a suitable replacement). Your site has made this 22 y.o. Texan VERY happy."
Says Spencer Schwab - "This is the best website ever! I visit at least 10 times every day and spend at least half an hour on it each time."
Types Matt - "Your website is the best . I had a '67 Goat in my younger days. I wish I hadn't sold it. Who knew the muscle cars of yesterday would be so popular again? Keep up the good work!"
Chortles Charles Barnett - "oh that great i love it n enjoy too longtime"
Says Ron Casey - "Great site. At 51 years of age I am getting the urge for another GOAT. I know I could never find my original love or even if it still exists? I do search from time to time and it gets me all stirred up to get one."
Says Timothy O'Dell - "Well I think this site is just what all GTO people need...a place to come and dream, look at the others that are out there compare get ideas. Just to get my fix for the day, as the winter sets in and I have to park it, I can open a window and drive someone else's for awhile. Thanks Sean!"
Spouts Mark Blojovian - "I wonder how my name even got on this website? Maybe it's because I once owned a 1971 GTO station wagon? What a car!"
Says Sean's wife - "Get a grip. The Wives Of Car Freaks Support Group will be meeting with me at the next GTOAA convention."



Send your GTO photos to me. I especially want photos of junkyard Goats and unfinished project cars! Or Britney Spears baby. There is a large demand for bikini girls pictured in front of GTO's too.. heh hehhh. Please be patient if you submit a picture. It can take several MONTHS for the pic to finally appear on the site. Do NOT re-send pictures. Sending me duplicate pics is very unappreciated. In other words, don't send duplicate pictures to me! Submit pictures with our Self-Upload Page

NOTICE: All images and email text that you submit to this web site are automatically assumed to be for public publication and public distribution as the webmaster Sean Mattingly sees fit to include.



Thanks to Jeff Klein for his web development assistance. I couldn't do it without ya!

And thanks to the many members of the GTO Email List.

Participate in a GTO discussion email group!

It's just like an online car club. Free!

Sign up for the Ultimate GTO Email List and get messages delivered to your Inbox daily. Every message is about GTOs from a group of enthusiasts like you...
GTO email list all about Pontiac GTO's in Daily or Digest mode. Get the shirt here.
The Ultimate GTO Picture Site is (c) Copyright 1997-2015 by Ultimate Everything L.L.C. You may Download, save, and enjoy these GTO pictures if you like them. But selling these images for profit is prohibited by the web site author. The source code and HTML design is copyrighted and may not be reproduced on other web servers. If you re-post five or more of my pictures on your own web site, give credit to The Ultimate GTO Picture Site.
This web site has been visited 9,876,957,349 bazillion times since 1964.