Comprehensive Automotive Shipping
Whether you have purchased an everyday vehicle remotely or are sending it across the country for a competition, the condition upon arrival is always a concern. Nothing is worse than damage to your car that you didn't even cause. It's true that professional shippers are experienced and reliable most of the time, but accidents do happen and therefore anything you can do to minimize your risk is a good idea. The following will discuss important options to consider when choosing a transporter, as well as outline some simple steps to help reduce the chances of your vehicle being damaged while in transport.
When beginning the process of choosing a moving company for your vehicle, it is important to explore which kind of trailer is your best option. While tractor trailers that are capable of moving several vehicles at once are usually the cheapest option, it tends to take longer than single car transport. Also, due to the large size of these trucks you may have to meet your driver in a parking lot. Single car transporters can usually pick the vehicle up and drop it off in a residential area and may be able to get all the way to your front door. Your time frame and budget should be considered when weighing these two options.
Enclosed versus open trailer transport is another thing to consider. Once again, this should be discussed with your service provider to determine the best option for you. Closed trailers protect a vehicle from the elements at all times, but they can be twice as expensive as the open-air variety. For shorter distances in mild weather an open trailer may be best, but if you're heading northeast during winter it may not, it just depends on the circumstances.
With so many shipping companies to choose from, finding one that services your area should not be a problem. However, before you hand over the keys you should make sure that the carrier is registered with the Department of Transportation. To do so, visit www.safersys.org and look up the company to make sure they are licensed to ship vehicles. From the same site you will also be able to check the company's insurance information and compare it with the information that the company provides you when they quote you a price. Make sure that the policy is valid and that the coverage is sufficient before moving on. If you feel that the minimum policy provided to be lacking in any way, feel free to inquire about additional coverage.
Once you have determined that a shipping company is legal and insured, inquire about customer references. These provide proof of the shipper's experience and competence, so they should be eager to share these with you. Also, be sure that at least some of the references are specific to vehicles similar to yours. You can also look up the company with Better Business Bureau for additional information on their history and records. Many companies are starting to offer free shipment tracking which allows you to go online and check the exact location of your vehicle at any time, so this is something you may want to inquire about.
Once you have chosen a carrier, it is time to prepare your vehicle to be transported. Keep in mind that different companies may require additional steps to be taken, especially if your vehicle is rare or extremely customized, but this should get you started.
Clean it out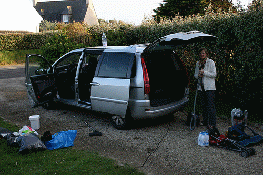 The first step is to clean out the vehicle's interior and the trunk. This not only ensures that your personal items will not be lost, but it also helps protect the auto's inside. Loose stuff left in a vehicle on a trailer can bounce around and ding up seats and upholstery, as well as be damaged itself. Worst of all, a carrier's insurance will not be liable. If there is something you prefer to keep in the vehicle, be sure that it is secured in a compartment or the glove box. At this point you should make sure that any aftermarket speakers are firmly held in place and stereo faceplates are removed.
Clean it off
Now that the inside is prepped, your vehicle's exterior is the focus. Carefully wash and inspect for any existing damage. While this step applies less for a clunker than a new ride, it's always better to know what shape the auto is in. Photograph all sides of the car and give a dated, written assessment. If you are dealing with insurance issues after damage, this step will make the process a lot easier.
Once the exterior has been cleaned and examined, all removable exterior parts that can possibly be broken while on the trailer should be secured or removed. Fold in the mirrors to the vehicle's sides, lower the antenna and raise the windows. Convertible tops should be securely closed, and tool boxes shut and latched.
Check it out
Even though an automobile will only be driven off and on to a trailer during the shipping process, it is necessary to make sure that it is in operable condition beforehand.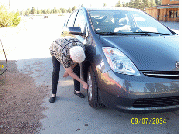 While in-depth automotive knowledge is not necessary to check the battery, the tire pressure and fluid levels, your neighborhood service station or dealership can help out if needed. Alert the mover if you have been experiencing any particular problems, and make sure that they are aware of any leaks that could drip onto another vehicle. You should also disable the car's alarm and make sure there is sufficient fuel in the tank. You want to keep the gas tank at around an eighth to a quarter full. There needs to be some, but more than that is just extra weight.
Finally, if you are unsure about anything throughout the process, feel free to ask your carrier questions.
Written by Ben Leffler of uship.com, an online marketplace for Vehicle Shipping.