Sunday, January 11th, 2009
The classic GTOs that got away – by Sean Mattingly
Many times life with throw a GTO owner a curve and he will find himself (gasp!) GTO-less! Here are some stories to inspire you to get your old GTO back. Or maybe you will decide to hold onto your current car with an iron fist.
David Keim (seen above) wants this silver 1964 GTO back. Does anyone know where this car ended up? David says, "I ran out of money for school and joined the Army. I put my Father in charge of my car (big mistake). While I was over in Germany, he put it on a U-store-it lot and then never paid rent. By the time I got back (1987) they had sold it and it was nowhere to be found. I have spent every minute since wondering where it was or what had happened to it. I would love to see a picture of it finished and on the road or better yet get my hands back on it. I go to this website everyday and look over the 64's dreaming that one day I will see or read about someone buying my car. I won't keep dragging this story out. I am sure you hear stuff like this all the time. No VIN #, no title, no insurance, no keys. I [now] live in Illinois. I am trying to get a hold of an old friend in Riverside, California to get the name and location of the U-store-it that sold the car. Odd side note: my Dad stored my car and a car he built – a 1978 Town & Country station wagon on a 4×4 Suburban frame at the same place. Both were sold for past due bills."
Multiple photos of the car can be seen at http://ultimategto.com/cgi-bin/showcar.cgi?type=lot&pic=/1964/64_00170_12
John C in New Jersey is looking for his old Teal 1964 GTO. John tells us this story, "I picked this car up in Central Jersey back in 1988. It was a 4-speed Tri-Power car. Only Power steering. The best part about this Goat was that is was dent and rust free. No numbers match on drive train though. Sad part was I had to trade it a few months later for financial reasons and I already had two other GTO's I was building at the time. It's been over 12 years now since I have seen it. I lost track of it when the guy I traded it to moved. I tryed to buy it back from him two years later when I found out he was moving, but he didn't want to sell. Then I found out two years after he moved, he sold the Goat to someone else. I was just wondering if this Goat is still out there somewhere."
It is the only photo we have of the car at http://ultimategto.com/cgi-bin/showcar.cgi?type=lot&pic=/1964/64_00113_1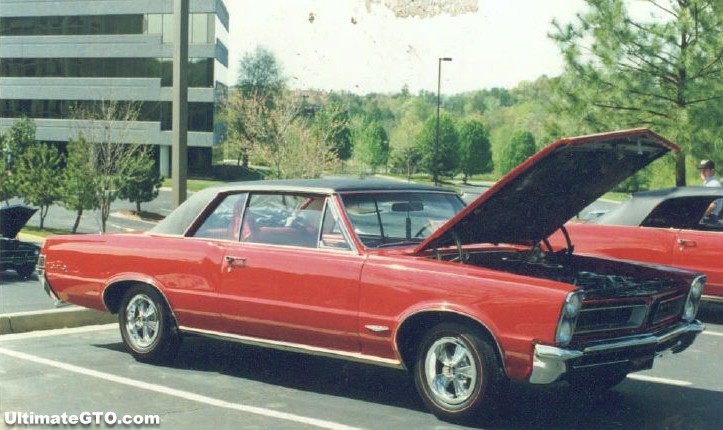 Jerry Hamilton in Georgia is looking for his old red 1965 GTO. At one time, he cared well for this Montero Red 1965 GTO hardtop. Jerry asks, "I bought this car in 1984 and did a frame-off resto in 1985. It won its class at the GTOAA Nats in 1987 (with Rally Is). I sold it in the mid 90s to a Michigan classic car dealer and lost count of it. Anyone know its whereabouts today?"
The one photo on file, and Jerry's email address, is located at
http://ultimategto.com/cgi-bin/showcar.cgi?type=lot&pic=/1965/65_00301_1
Wayne Blackburn (pictured above) wants his first car back, a Verdoro Green 1969 GTO. The vintage photo is from 1980. He is looking for it again. Wayne tells us more, "I would like to hopefully buy it back. Here's how it was built: Verdoro green (not Midnight Green – some pictures are dark) on green buckets, console, 400ci/350hp, M-20 4-speed, factory air, but NO power steering, power brakes or power locks from factory. I am not sure on the gauges. I last saw it in Florida, Port Richey area, in 1982 and lost track of it then. I was told it was painted white around 1982. I don't have, and can NOT get the VIN as I tried everything. I added a '69 AM-FM and 8-track to it. I also painted grilles black. There is a generous finders fee for info leading to or top dollar for right car. Please check your PHS….. Thanks. I really would love to have it back. It was probably originally sold at Crown Pontiac or Wes Harris Pontiac."
There are a few photos of the car posted at
http://ultimategto.com/cgi-bin/showcar.cgi?type=lot&pic=/1969/69h_00289_1
Ralph Law in California wants his first new car back, a Cypress Green 1965 GTO convertible with a stripe. It was Picture Of The Week 5/17/98 on UltimateGTO.com. The vintage image was emailed in by Linda Hilton. The former owner, Ralph Law, tells us this story:
"A long time lady friend of mine, Linda Hilton, who I have known since high school sent you the picture of my 1965 GTO that you have so nice presented as this week's cover car. This was my first new car purchased with my own earnings when I was 21. I added headers and a racing cam, plus a few other extras. I ran 13 second 1/4 miles! Got several trophies at the drag strips in Wisconsin. When I raced it, I put on the slicks. It was special ordered due to the color which is Cypress Green. Cypress Green was not a Pontiac offered color, rather it was one of the colors for Chevrolet. I loved the color and they painted it at the factory.
Linda e-mailed me and suggested I look at your site. What a surprise when I saw it. I received many citations from law enforcement personnel. One night, I got six tickets! I used to taunt the police and peel away near them or spray them with gravel and they could not catch me. However, one night, I raced it continuoulsy through several Chicago suburbs. Thinking I had lost them all, I quietly pulled into the driveway of a friend. Suddenly, multiple police spot lights were upon me. To this day, I still aggravate police but with my mountain bike and roller blades in Walnut Creek, CA. Although am 54 now, I have always been a runner and a bike nut. Thus, I go where I am not supposed to, the hills in the open space area, and downtown where cops have noting to do but hassle teens for skateboarding and roller blading. I wrote a letter to the chief and said if they could catch me, I would donate a $1,000 to their police association. So far, no pay outs!
The GTO was wonderful and I am fortunate that it didn't kill me. Later, in mid 30′s, I was able to afford a new Porsche. The Porsche was my favorite of almost 60 cars I've owned. However, the 65′ GTO is my second favorite, and I had six Corvettes, and some other nice cars.
If someone e-mails you and says they have the car, please let me know."
It is the only photo we have of the car so far at http://ultimategto.com/cgi-bin/showcar.cgi?type=lot&pic=/pow/pow9821
The tales of long-lost GTOs are frequent. If you wonder what powerful feelings of loss are like, hang out at a car show and listen to the stories of "the one that got away". Some guys get over the loss by buying a different classic car…moving on with life. Others keep looking for their first GTO, checking the ditches, walking through junkyards, poring through classified ads, looking in backyards in their old hometowns, keeping a vigilant eye to the road's horizon.
Do you have any tales of a car that you lost and then got back again? Leave some comments, below.
Or send in old car photos on the UltimateGTO.com Self-Upload page at http://ultimategto.com/cgi-bin/upload.cgi